SPAM Email Problem - Attached .EXE Files
We have been contacted by a number of customers regarding an email they have received supposedly from the Royal Mail regarding a Lost or Missing Package.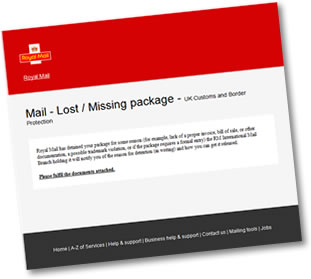 However

DO NOT

be tempted to open the attached Folder - this email IS

NOT

from the Royal Mail - it is a

SCAM

email containing an Executable (.exe) File that could infect your computer with a Virus or Trojan.


Although a large number of these SPAM emails have been of the 'Royal Mail' style, there are many other versions too. These include emails that have supposedly been sent from

'Barclays Bank'

(regarding a Transaction Notification),

'UPS Parcels'

(regarding a Delivery Notification/Tracking Number) and

'Amazon'

(regarding Your Order Details) to name just a few.

As indicated above, the main common factor between all these emails is that they have an attached

ZIP Folder

... inside this Folder is a file ending in

.exe

- this is an Executable File which is capable of installing a program on your PC... in this case a Virus or Trojan.



NEVER CLICK/RUN AN .EXE FILE FROM ANYONE YOU DON'T KNOW!

The Banks, Royal Mail, Couriers, Online Shops etc will

NEVER

send you a .EXE File,

FULL STOP!!!



Because these .EXE files are contained within a Zipped Folder, Server Side Anti-Virus protection cannot 'open' the folder and look inside not least for Data Protection reasons.

However to counteract this global problem, we have added a new feature to our Server Side Anti-Virus service to provide you with protection against zipped up .EXE's. This is incredibly easy to set-up, just follow the simple instructions below:



Update Your Email Settings





Log into your

WebMail

Service (

http://webmail.havnetmail.net

) and follow these steps...
Click on

Personal Settings

(top right)


Now click on the

Protection

(Tab)


Under

Anti-Virus Filtering

change the drop-down

'Anti-Virus'

Setting to Extreme Scanning


Now select what you want to happen when a Virus is detected followed by

Apply Settings
You should now be protected from .EXE files within .ZIP Folders.
NB: These instructions are for our Anti-Virus / Anti-SPAM Email customers only... for information on our Server Side Anti-Virus / Anti-SPAM Protection Service, please email us: info@pureenergymultimedia.com