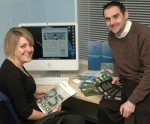 Helen Mayes, who has joined Pure Energy's design team, is something of a celebrity in design circles. As an undergraduate, Helen beat off stiff competition in 2006 to win the contest to design a logo and marketing materials for Bury St Edmunds Fringe Festival 2007. It was an impressive achievement for a student. Helen was able to see her work gain a lot of attention and reach a wide audience throughout the duration of the festival.
Now Helen is hoping to build on this success by joining our team.
Since its launch in 1999, Pure Energy Multimedia has gained a solid reputation for technical web expertise. Recognising the need to integrate communications and offer our clients a full service, we have expanded significantly in recent years and strengthened our design element. The company now offers a full service in both print and web based marketing communications.
Jason Fitzpatrick, managing director of Pure Energy said: "Helen's a great catch for us. She's a bright star and clearly has bags of design talent, insight and gusto. Her skills will compliment the service we currently provide to our clients and she will play an integral role in shaping future development.
"Helen has already started work on a number of projects including recent commissions from Haverhill Enterprise, Terence Barker Tanks and Genzyme. I'm really looking forward to the vitality she'll bring to our team."
Helen is equally enthusiastic: "Pure Energy has a passion for pushing the boundaries in digital communications. A desire to explore design and use it in practical and effective ways has driven me for the last five years, so it feels like a natural fit. It's an exciting company that has already made a lot of impact. I want to be part of where it goes next."
Date : 08-01-2008