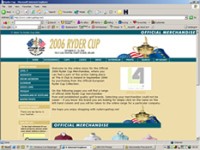 Pure Energy Multimedia, the Haverhill based software and web development company, has been commissioned to create a new website for the merchandising division of the Ryder Cup.
The Ryder Cup, golf's premier team event between Europe and the United States, will be held in Ireland during September 2006. This high-profile competition, which attracts extensive media coverage and crowds of spectators, is currently in its thirty-sixth year.
Pure Energy will be working closely with Level 4 Golf who manages the commercial section of the Ryder Cup for the PGA.
Alan Shipperlee of Level 4 Golf, said: "Pure Energy's interpretation of the brief exactly matched our expectations. Their design and technical capabilities are impressive and their experience with e-commerce sites self-evident. We feel their ideas and expertise perfectly compliment our objectives. Added to these qualities, the company's open and candid approach to the costs and timescale involved gave us the assurance to move ahead."
Jason Fitzpatrick, Managing Director of Pure Energy commented: "We are delighted to be involved with an event of the scope and significance of the Ryder Cup. This has been a great project to work on. As well as the prestige element, it has allowed us to focus on our strengths. A site such as this will attract a huge number of visitors. It has to be secure, reliable and built on a very solid and stable infrastructure. I am confident we have achieved this goal."
Since receiving news of their success in winning the e-commerce website contract, Pure Energy have just received confirmation that they have been awarded a second commission to build a website for the Ryder Cup Travel Services.
Both sites are due to go live at the end of May this year.

Other Golf Related Sites Include :
Story By: Elaine Collins
Date : 15-03-2006