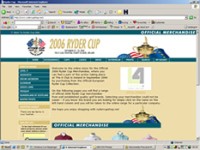 The media furore surrounding this year's Ryder Cup Tournament at the K Club in Ireland, guaranteed vast numbers of visitors in a very short space of time for any website associated with golf's premier event.

This was certainly the case for the official Ryder Cup Shop at www.rydercupshop.net,
designed, built and hosted by Pure Energy Multimedia.
Traffic to the site, a steady stream over the past few weeks, rose sharply in the five days preceding the event and then soared! On the first day of the tournament alone the site received over 320,000 page views, using over 8Gb of bandwidth in just a few hours.
A senior programmer at Pure Energy describes the impact:
"A surge of concentrated traffic such as this is quite unusual and can cause problems. However, we were confident our servers could cope - as we host many high profile websites - and they did, brilliantly!
"We had designed the site to be as efficient as possible, both in terms of bandwidth and server load. Our SiteWise system created as many flat HTML pages as possible and only the interactive pages were CGI and database driven. We have a lot of experience in developing high bandwidth sites and were ready for the challenge. But I wouldn't say it wasn't a nail-biting moment!"
In one sense it was a double triumph for Europe! Team Europe's victory over Team USA was coupled with a very successful e-commerce website from Pure Energy Multimedia…
Other Golf Related Sites Include :
Story By: Elaine Collins
Date : 26-09-2006