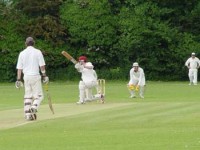 Pure Energy has agreed to sponsor Haverhill Cricket Club through building and hosting the Club's own website.
Greg Street of Haverhill Cricket Club explains:
" I spoke to Pure Energy about a club website. We recognised how useful it would be to help promote the club, list vital up-to-date information and provide valuable online visibility for supporters and sponsors of the Club. We were delighted with the response from Jason. The site administration is uncomplicated and has transformed the way we handle information and advertise club fixtures."
Jason Fitzpatrick, M D of Pure Energy said:
"I was happy to provide this facility for Haverhill Cricket Club. Our SiteWise content management system is ideally suited to this type of enterprise. We were able to design and build a basic framework for the site and then give access to the Club. They have complete control and can easily maintain it themselves, using a simple online administration system with features similar to Microsoft Word. They found the system easy to use and populated the site within days. Updates appear regularly.
"One of the great features of SiteWise is its ability to create web pages that are optimised to provide information for search engines. You can now find the Haverhill Cricket Club simply by typing "
Haverhill Cricket
" into Google. Their site now appears at the top of page one, even for a worldwide search!"
Web Link: www.haverhillcricketclub.co.uk
Date : 05-04-2006